Corporate Social Responsibilities -sustainability & our environment
Showing care and respect for the environment, our staff, our customers and suppliers.
The Environment
We use good common-sense values, encouraging sustainability using the waste hierarchy of Reduce, Reuse & Recycle in our operations.
With working directly with suppliers in Europe and the Far East we are conscious of our carbon footprint, so where time allows we have goods shipped by sea rather than air. We have engaged in the past with Carbon Smart, working with Liverpool City Region, who helped us formulate an environmental action plan gaining' certification.
We are conscious of the impact that many of our products have on the environment and are currently partnered with Ecologi,  giving back to the planet every month, which you can read more of in our previous news article.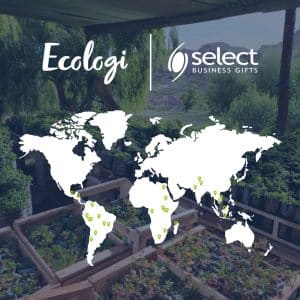 Our ongoing monthly contributions to Ecologi directly helps fund tree planting and other climate projects all over the world, which includes helping the 'Eden Reforestation Project' project in various countries:-
'We hire local villagers to plant the trees. In this way, we alleviate extreme poverty within the impacted community. The villagers now have an economic incentive to ensure the wellbeing of the restoration project. They also have a sense of "ownership" over the trees and restored forest and they protect it with great care'.
Examples of projects supported
Supporting the 'greater good'
Here at Select Business Gifts, part of the Select Business Group LLP, the supporting of charitable causes is encouraged, with giving by the company or its partners to charities including the RNLI, North West Air Ambulance & RRT.  Voluntary work is undertaken by the team here including supporting charitable events linked to the NHS & Front Line services, and included food box packing for Ukraine.
Regular contributions are made to charity raffles when requested by our clients, which helps to clear surplus samples we have accumulated to good causes!
Well being 'good health is good business'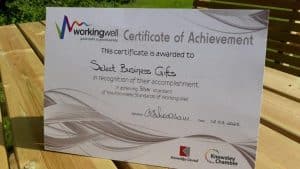 This spring in 2023 we were given the opportunity of working with Knowsley Chamber who are ambassadors of 'Working Well', a scheme dedicated to improving health and wellbeing in the workplace. One of their slogans is 'good health is good business' and we were pleased to be awarded a silver certificate of achievement, as we work on creating a healthy workplace.
We have worked with this program in previous years, and have proved the benefit of taking a keener interest in the mental health & well being of our team. Read about this in one of our previous new articles here.