Italian Castelli Appeel Notebooks
Castelli Appeel notebooks, now available at an exclusive

turning recycled apples into eco-friendly and stylish writing companions.
Available 14th June until 31st July 2023.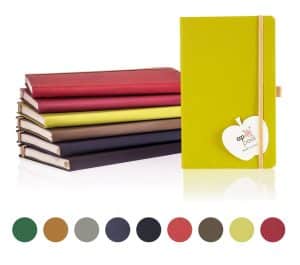 At the forefront of sustainability techniques, Castelli introduce the The Appeel notebook collection. Made from apple peel, vegetable fibres and sustainable pulp,  crafted using patented and pioneering technology sculpting the way in the modern sustainable paper goods market.
Appeel notebooks are bound in a soft touch apple cover and feature FSC certified ivory tinted apple paper, finished to the exacting high standards that have become synonymous with Castelli.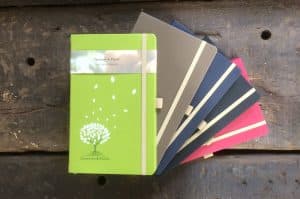 Testament to the meticulous detailing that Castelli assign to all of their corporate gifts, the Appeel notebooks and diaries can be personalised with a combination of blind embossing and digital print for wonderful creative promotional branding solutions.
The soft touch cover is available in a sympathetic colour pallet which has been considered for the subtle grained material with contrasting paper ends, contrasting closure elasticated band, pen/pencil loop detailing and ribbon marker.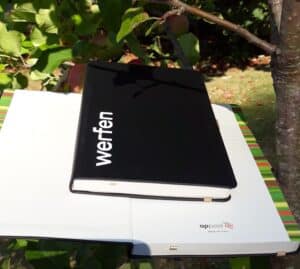 Pictured here are medium size ruled Appeel notebooks, hot foil printed by ourselves in-house to ensure high quality branding, using a Kurz white pigment foil  with a brass blocking die at 110 Celsius. Captured along with ripening apples here at Select, planted as part our 2016 well-being program.
Appeel notebooks are made in Italy and feature FSC ecological sustainable apple paper sourced from sustainable forests.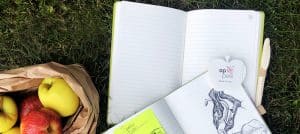 Offering a wealth of beautifully crafted features that is eco-friendly to the core, Appeel notebooks are available in ruled paper format on beautiful ivory tinted apple pages with crafted round corners for an elegant look.
FREQUENTLY ASKED QUESTION'S
Any Questions about our Special Offers Products?
If you would like further information about these or any of our other products, fill in the form below or get in touch.